News & Events
Our events are unmissable. Come find out why…
Dress up in your tuxedo or nicest cocktail dress and celebrate New Years Eve Monte Carlo-style as we bring you a casino royale themed party with music playing till 3am.
There will be great food, a glass of champagne at midnight and lots of good vibes.
Invite your friends and enjoy classic cocktails, premium beer and boutique wines.
Wine Tasting Events
We provide a range of bespoke Wine Tastings for individuals, small or larger groups (up to 12 people) at the HOF'S Wine Hub. Packages range from the HOF's wine tasting experience to the 'Around the World' tasting package. Choose one of our established packages or contact us to create your own unique tasting experience! 
Corporate Events
Book our wine hub or conservatory for special events such as corporate parties, charity events or birthday parties. The beautifully open layout of our conservatory which is adjacent to the Wine Hub means that any function can enjoy privacy without feeling cramped. We are able to cater for up to 100 people. Please contact us directly to start planning the party of your dreams today!  
Live Music
Every Saturday from 8 – 11 pm. A live music event not to be missed. £5 admission for a big variety of different rock/pop artists from around Henley and London. Come together with your friends and enjoy a night of fun where soaring vocals envelop the audience at HOF'S, creating a shared revelry between the artist and the crowd. Please see our monthly schedule to see who is playing.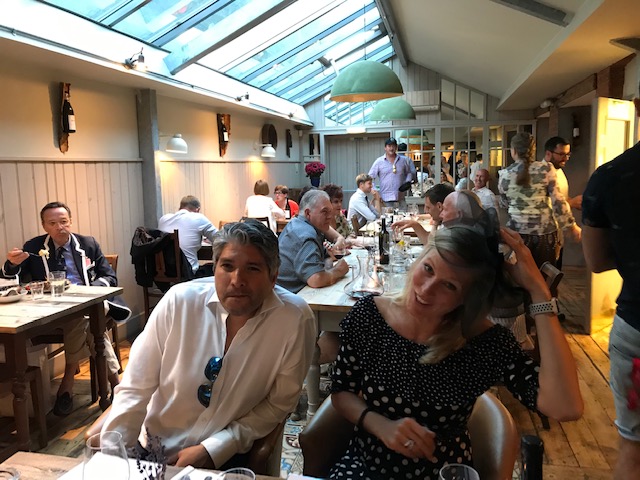 The Restaurant
To secure your table, we recommend to reserve as early as possible. To book the whole restaurant, please contact us directly on 01491529313 and speak to either Sophie or Christopher Hof.
Entertainment
Entertainment and live Music during the Regatta week is scheduled on Thursday and Friday night. £5 admission in the bar. Tables only available if booked in advance.
Outdoor pop-up bar
Enjoy HOF's Wines, a selection of Champagnes, local Ales and premium Lagers on Market Place at the pop-up HOF's bar. 
TUES – THURS
12:00pm – 10:00pm
FRI - SAT
12:00pm – 12:30am
SUN
12:00pm – 9:00pm